Spa Days & Spa Nights at UTLT

UTLT ~ The Mindful Place to B & Be!™
Take advantage of Under The Lime Tree's unique setting and make your massage treatment more mindful by hopping in the outdoor horizon line hot tub first! Whether you're catching up with friends and family, or enjoying a romantic moment with your partner, it's the best and quickest way to relax, unwind, forget about your worries and get ready for the magical benefits of some serious 'chill' time! Spa Days and Nights are an all year-round experience but extremely popular from June to September so do book well in advance if possible. In the winter months, relax by the log fire and curl up snuggly with a good book..!
| | |
| --- | --- |
| | |
The Holistic Spa Treatments offered at Under The Lime Tree are a great way for you to relax and become mindful of your sacred "me" time that is so important to your wellbeing and sense of self. There's something for everyone here, so it doesn't matter if you're male or female, young or old, living locally or visiting from abroad, because we all need to find the time to stop, take stock, and recharge our batteries. Don't wait for illness or injury to take hold, or for stress to set in, or occasional bad habits to become the norm, book yourself in for a dedicated treat that's meant just for you! Advance booking highly recommended.

Contact Me now to arrange your special Spa Day or Night at UTLT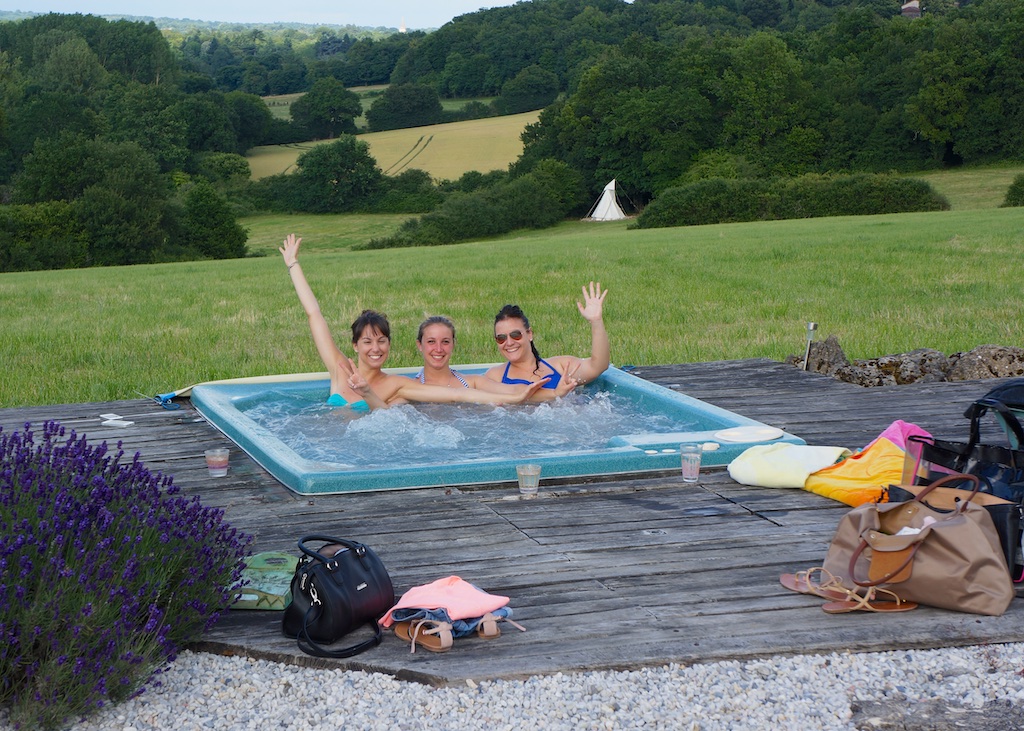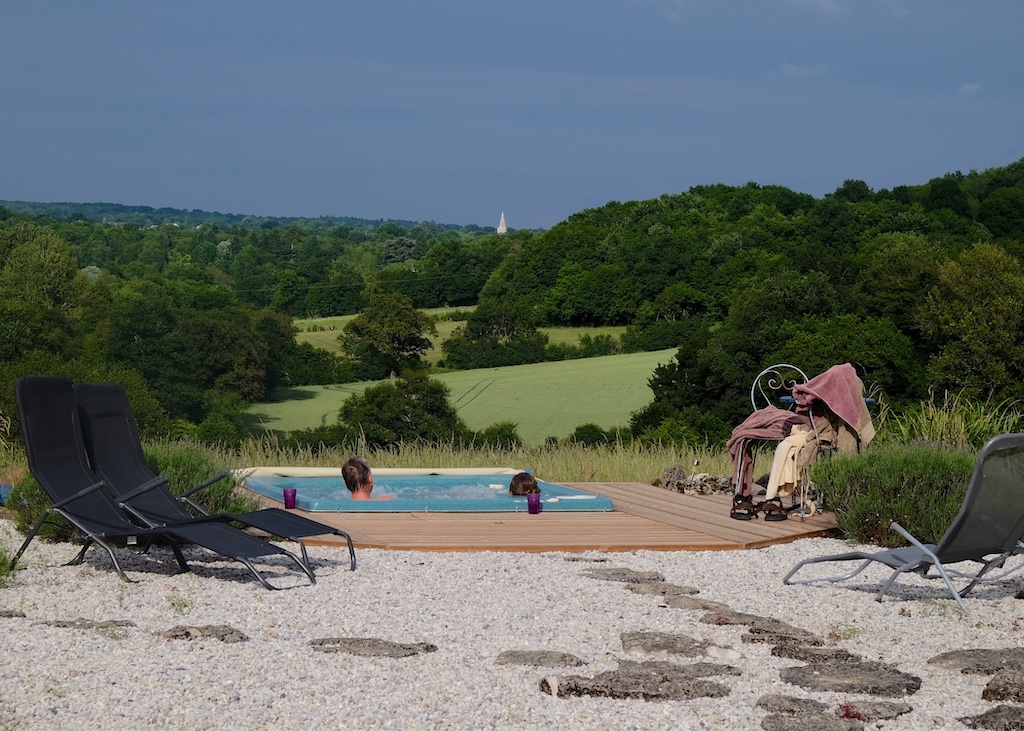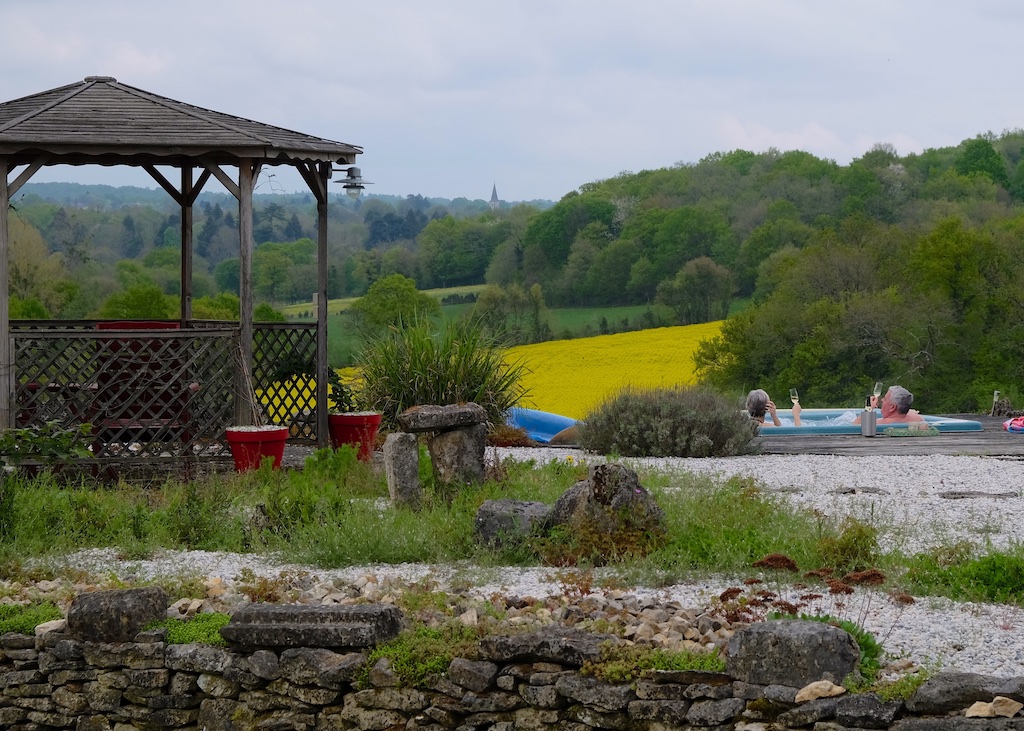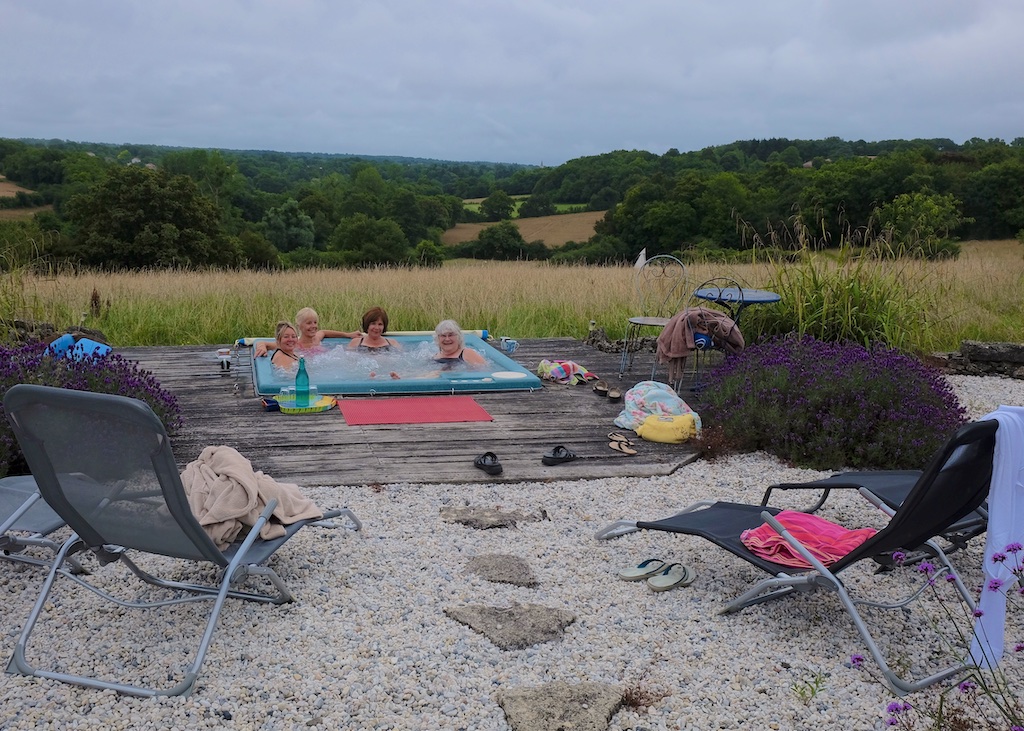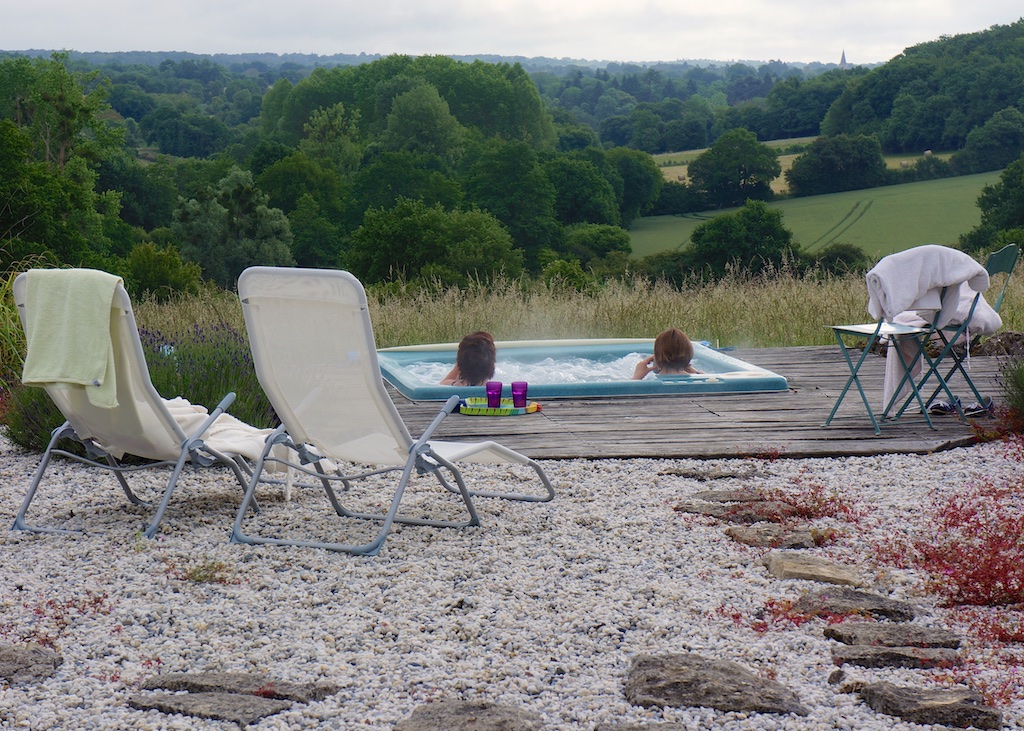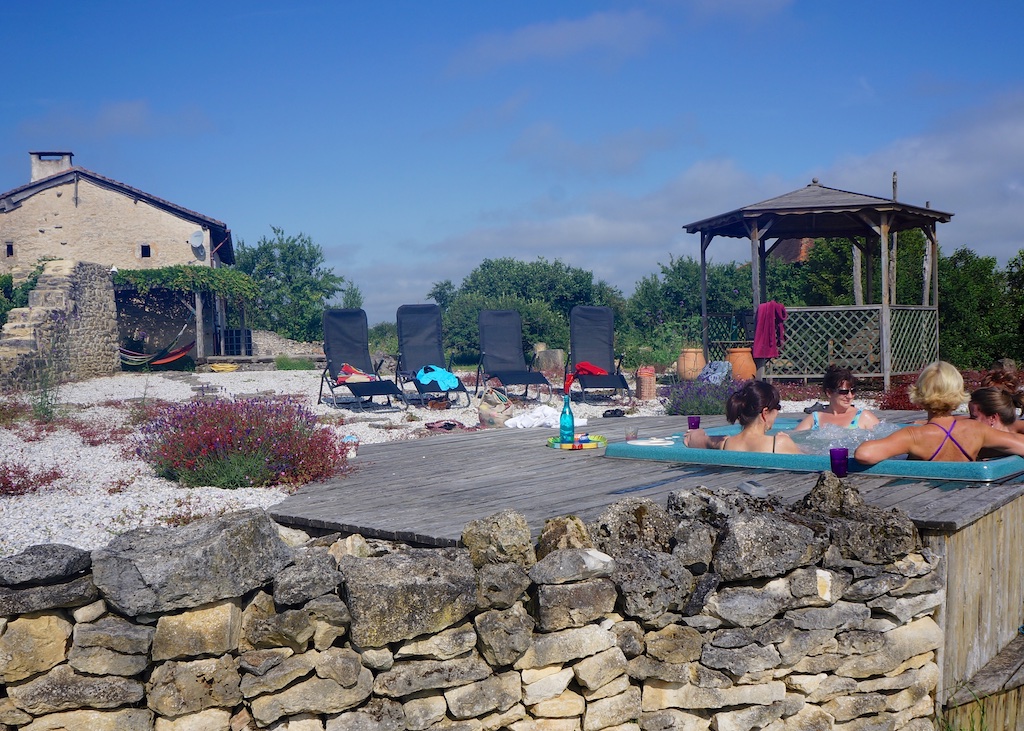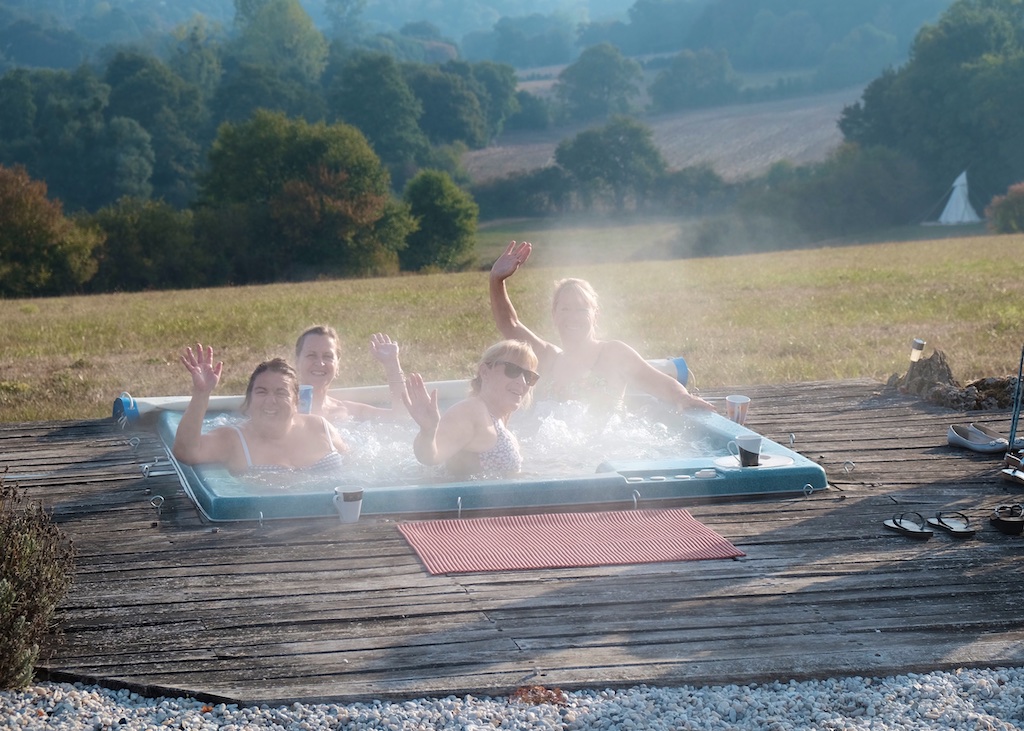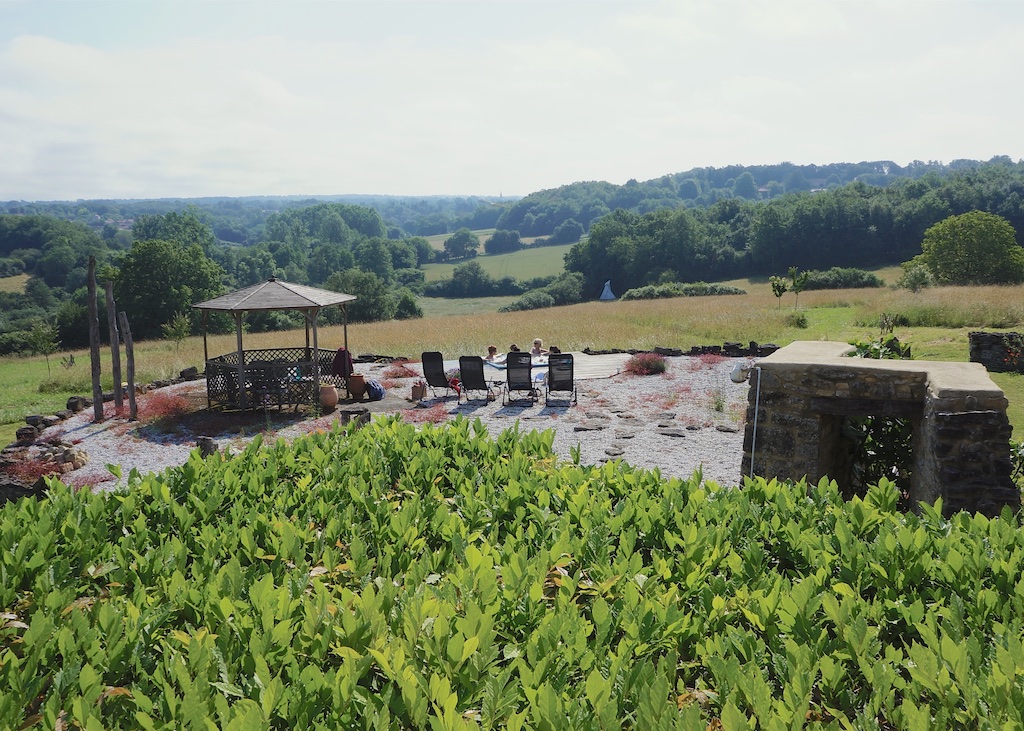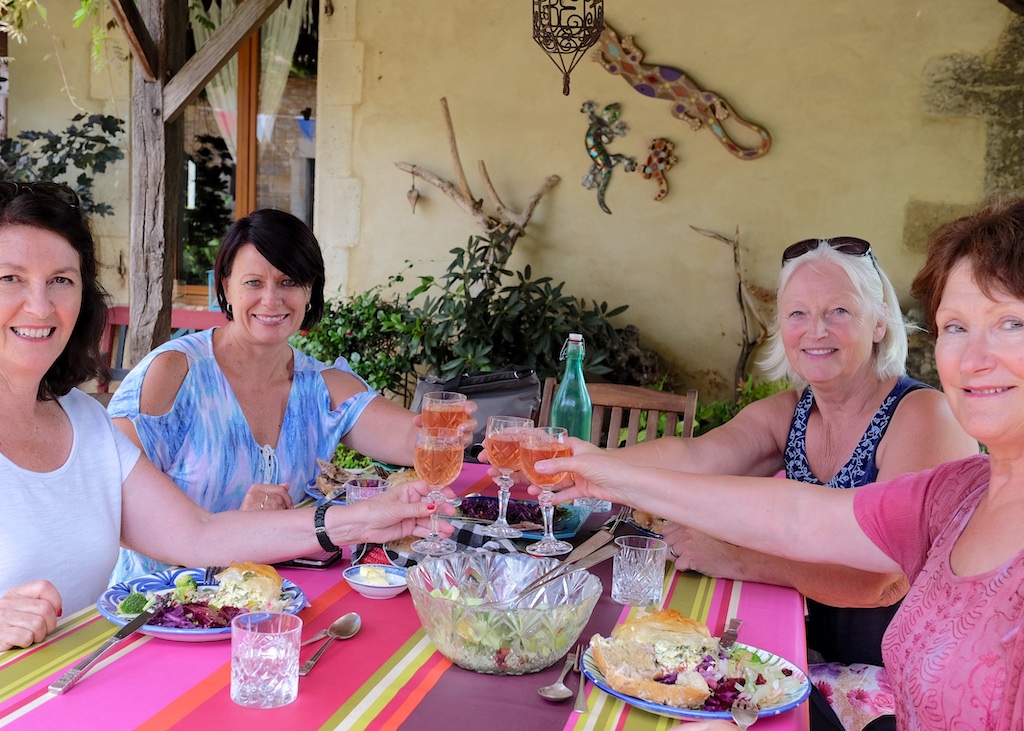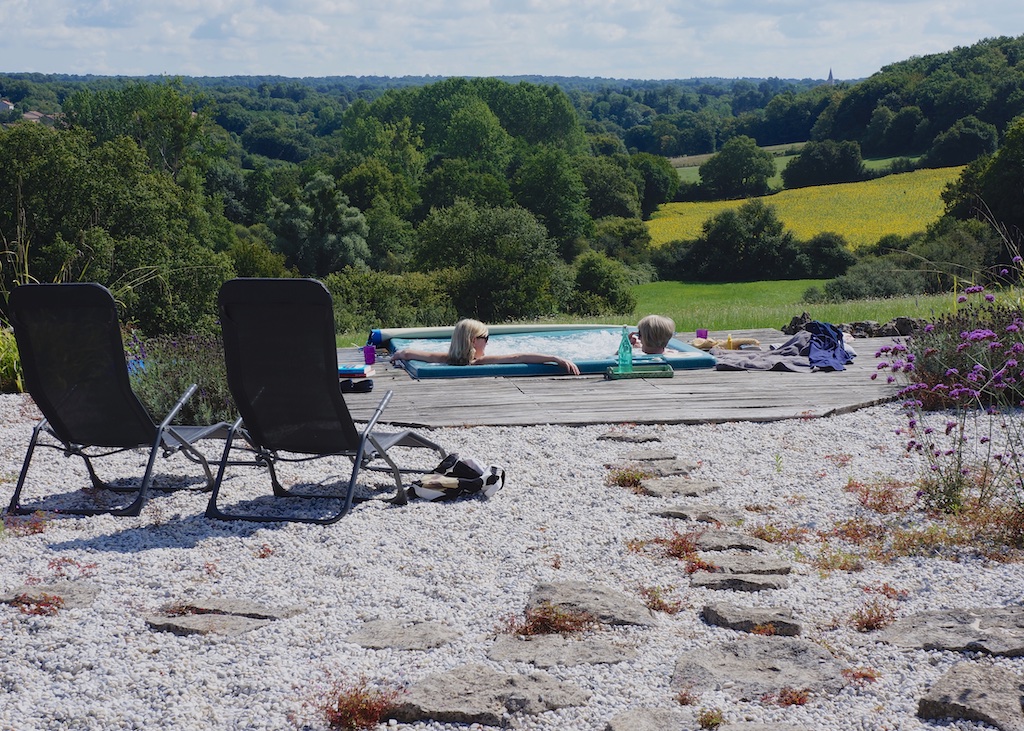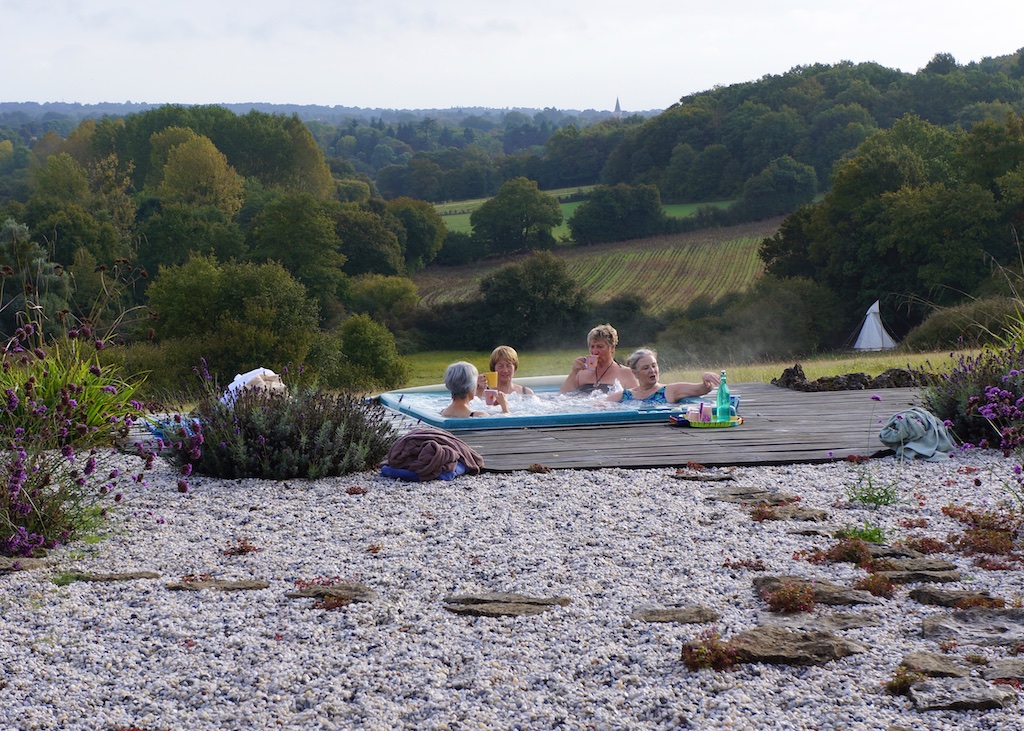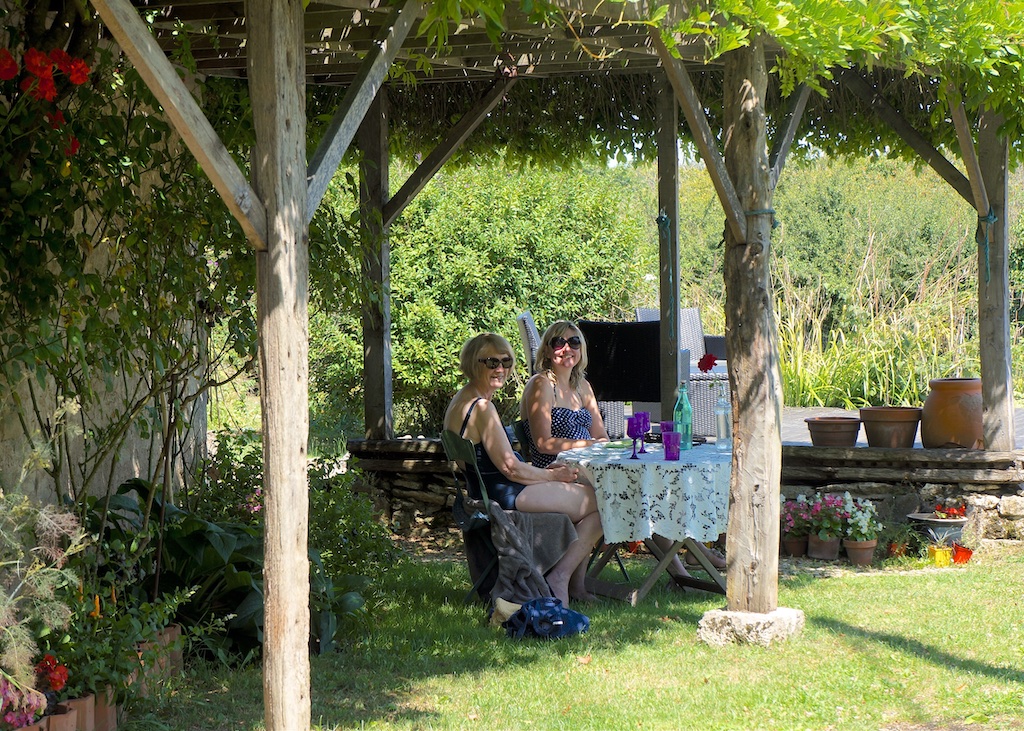 Spa Days: the perfect way to spend the day!
Arrive in the morning for refreshments; spend time in the hot tub soaking up the sensational views; have a 1 hour luxurious full body hot stones Massage Treatment or a 1 hour luxurious Rejuvenation Massage and finish with a 2 course gourmet veggie or vegan lunch.

Typical number of participants is from 1 to 4.

Typical timings are 10am to 2.30pm for up to 2 people and 9.30am to 4.30pm for 3 or 4 people. Alternatively, there is sometimes the possibility to start your Spa Day with lunch. In this case, arrive at 12.30pm for lunch followed by the hot tub followed by your massages.
Spa Nights: the perfect way to get away!
Arrive in the afternoon for refreshments; spend time in the hot tub soaking up the sensational views; each have a 1 hour luxurious full body Massage Treatment or a 1 hour luxurious Rejuvenation Massage; relax and and enjoy some chill time together; have a delicious 3 course gourmet veggie or vegan evening meal; hopefully enjoy star or moon or planet gazing; spend a restful night in our B&B; finish with a continental breakfast.

Spa Nights are based on 2 people sharing.

Typical timings are from 3pm to after breakfast the following day. Note that additional treatments can be added after breakfast at the published rate - please enquire at the time of booking.
Things to Bring
Please bring your swimsuit and a towel, suitable footwear to get you from the house to the hot tub, and where possible your own bath robe. Sun glasses and sarongs, ski hats and ugg boots might all be appropriate too, depending on the weather!

We have an eclectic range of reading material to browse through or bring your own favourite books and magazines to catch up with.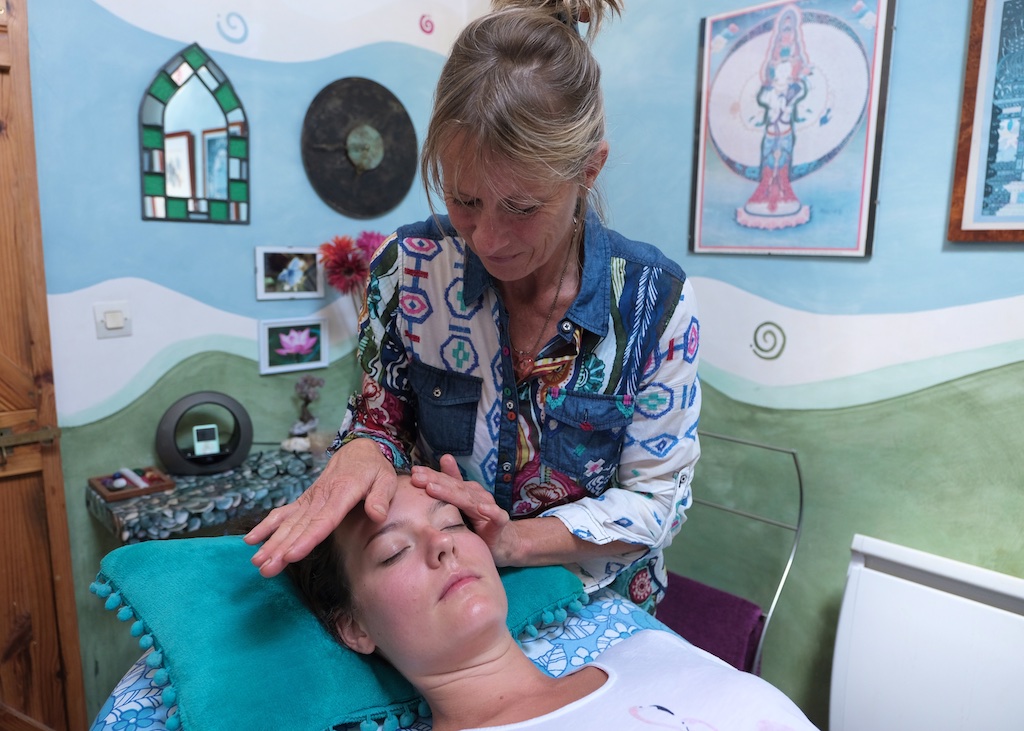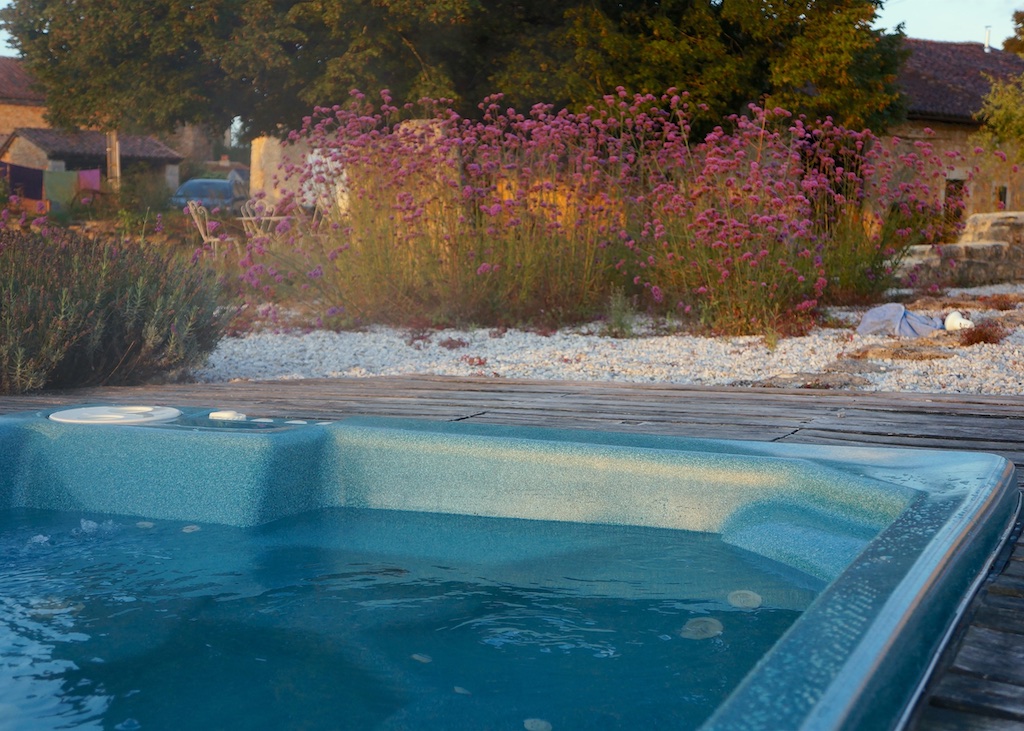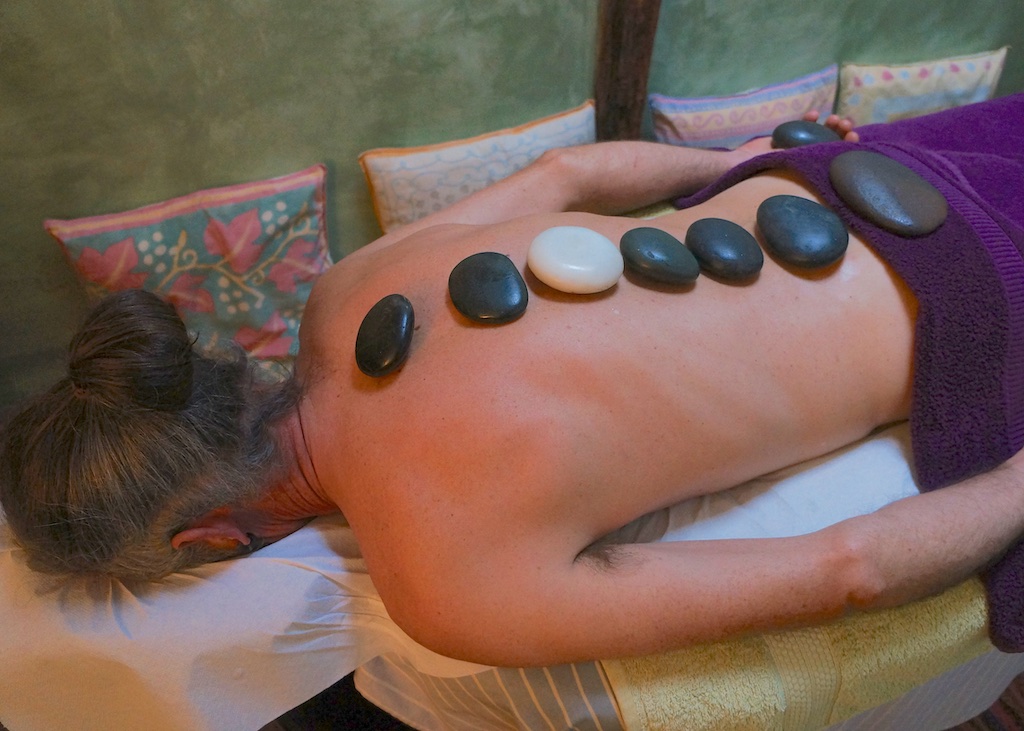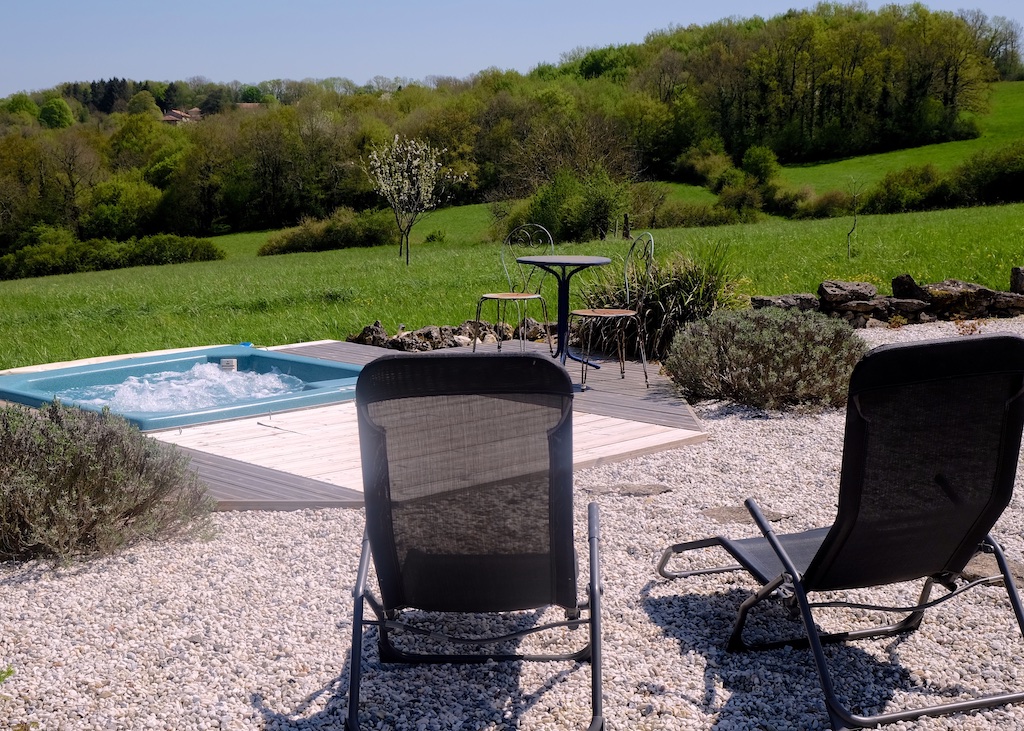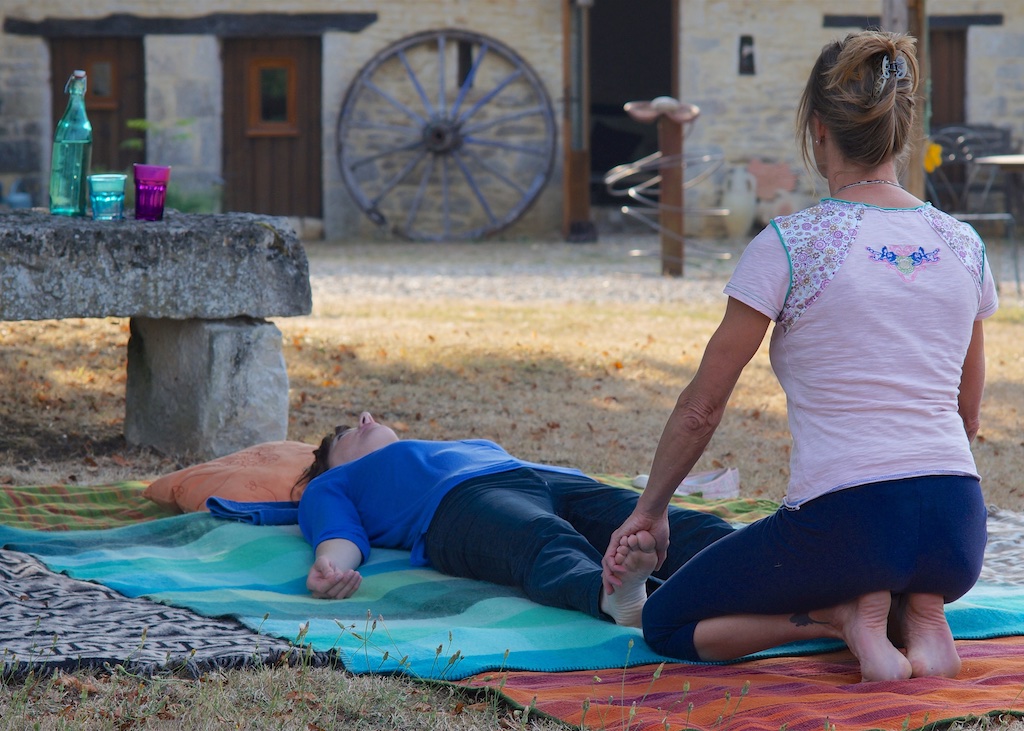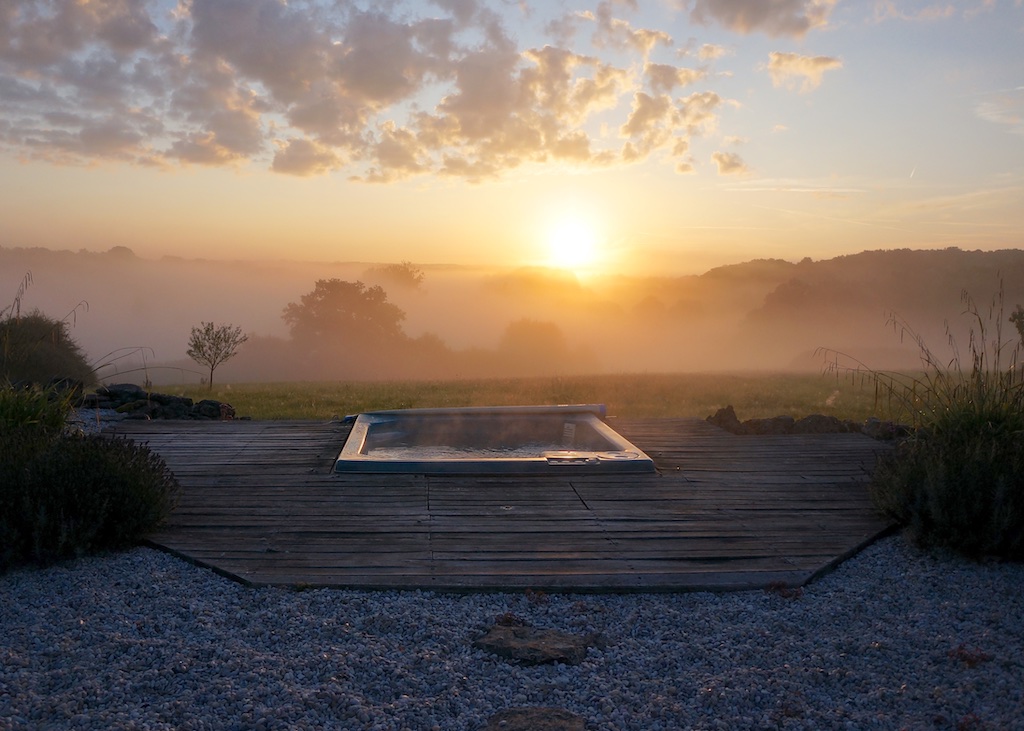 Gift Vouchers
Indulge others with a Gift Voucher! Great Birthday or Anniversary treats...

Spa Days or Nights are an unforgettable escape from the ordinary and are a great way to celebrate special occasions! Why not order a birthday or anniversary gift voucher now and treat yourself or your loved ones to a special massage or spa treatment at Under The Lime Tree!

Gift vouchers are emailed to you in '.pdf' format so that you can print and present them yourself. Contact Me now to arrange one today!
Testimonial:

"Thank you for 4 days of detox, relaxation, reflection, amazing treatments, wonderful food and the good company of you and Sean. I will be back"

.....Lizzie
Testimonial:

"UTLT has been a wonderful place to relax and gather my thoughts fueled by the best massages I've ever had ~ wonderful healing hands Nikki!"

.....Rachel
Testimonial:

"The jacuzzi and the massage were brilliant and we enjoyed the good laughs and the superb food in the evenings very much"

.....Simone
See our Tariff Page for prices and packages.

Follow Us on Facebook and Instagram for our day-to-day news, events and all things bloggy!